On our latest case study we looked into how one of our frequent customers Donderrygundogs uses our heavy duty drawer slides when installing a storage unit in the back of their vans. With exceptional load ratings, 100% full extension and a great range of slide opening lengths going from 10" all the way up to 60" it makes this product the perfect choice for this type of project. The TUMA Heavy Duty Ball Bearing Drawer Slides on show in this case study are also available in a locking version which has the same size range as the standard version. 
Pre-Installation in the Van
Donderrygundogs custom build these unit first like below and then proceed to the install phase of the project.
The project below is designed to be a multi purpose tray which can store things such as shoes/bags and other equipment to allow your vehicle to still have a storage space. They can also provide pull out feeding stations for your dogs which is a great help as it stops your dog from chasing empty bowls around their kennels and to prevent water bowls being knocked over ...
Post Installation in the Van
The final product looks amazing and you can tell that the build quality has been done to perfection, the fact our slides are fully 100% extendable allows the end user to have plenty of storage space with a generous load rating maximizing storage ability for the end user...
Here at Eurofit we find that pull out storage units similar to this are a very popular project with customers at Eurofit Direct along with other uses such as Van Conversions and Under stairs Storage with all of our customers very impressed with the high quality products and very competitive prices offered. If you require some more information about the heavy duty ball bearing drawer slides we supply at Eurofit please click on the product images below:
 Ball Bearing Heavy Duty Drawer Slide With Load Ratings Up To 250kg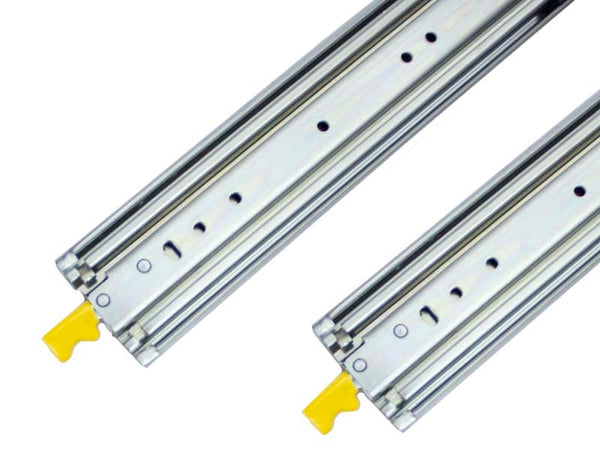 ---
 About Donderrygundogs....
They are small family run business based in west Norfolk, with a passion for dogs and country pursuits. With comprehensive knowledge in metal, plastic fabrication and design coupled with an extensive knowledge in gun dog training and behavior problems in all breeds. For more information on Donderrygundogs please see their contact information below as well as a collection of their work:
| | |
| --- | --- |
| | |
|   | |
Phone: 07342232470
Email: ianhale@donderrygundogs.co.uk